ON OUR RADAR
The Time For Smarter Cities Has Come
PLDT Enterprise and the City Government of Mandaluyong cement partnership to accelerate the city's overall digital adeptness.
---
The B2B arm of the country's leading ICT and digital services provider recently formalized a partnership with the City Government of Mandaluyong.
The collaboration will provide Mandaluyong City with some of the most up-to-date technologies in the market to help manage public safety, improve emergency responsiveness and accelerate its overall digital adeptness through the enablement of citizens and public servants alike.
"We laud the Mandaluyong City Government for your efforts in transforming your city—one of the most progressive cities in the whole country—into a Smart City. Be assured that the PLDT Group is committed in joining you in your digital transformation journey by providing you with the best solutions and enhanced services. We look forward to many more years of partnership with the City of Mandaluyong," said PLDT and Smart Chief Revenue Officer & ePLDT President and CEO Eric R. Alberto.
Through PLDT Enterprise's Private Automatic Branch Exchange (PABX) and an Integrated Services Digital Network (ISDN) to streamline communication services, Mandaluyong City is now able to deploy CCTVs and the Smart SOS Dispatch solution.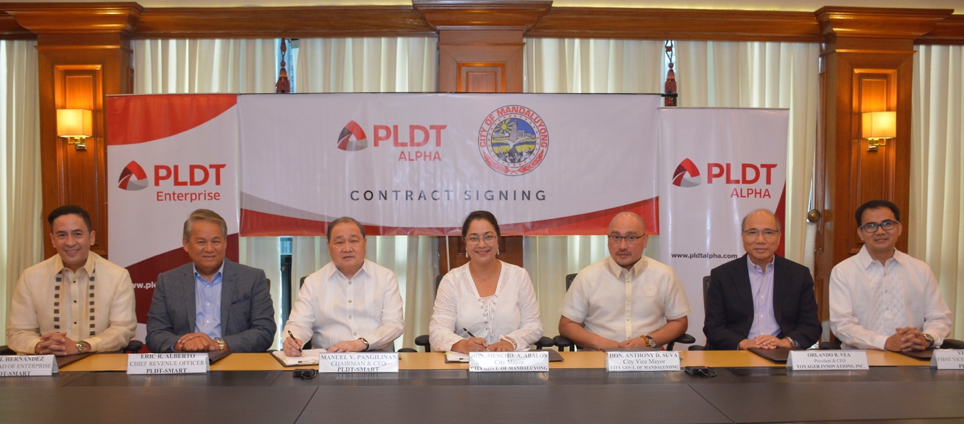 PLDT Chairman and CEO Manuel V. Pangilinan (third from left) with PLDT and Smart Chief Revenue Officer & ePLDT President and CEO Eric R. Alberto (second from left); and
(L-R) SVP and Head of PLDT and Smart Enterprise Business Groups Jovy Hernandez; Mandaluyong City Mayor Hon. Menchie Abalos; Mandaluyong City Vice Mayor Hon. Anthony D. Suva; Voyager Innovations Inc. President & CEO Orlando B. Vea; First Vice President and Head of PLDT ALPHA Vic Tria
"We are very thankful that we partnered with PLDT so we can better serve our constituents through the deployment of CCTVs, among many other products and services," said Mayor Menchie A. Abalos.
In addition, the City of Mandaluyong also welcomes the introduction of PayMaya Plus Citizen ID cards.
"Mandaluyong is known for being the 'tiger city' of Metro Manila thanks to its robust local economy and up-to-date public services. We are glad to partner with the Mandaluyong City government to help arm its workers and citizens with PayMaya as a tool to help them participate in the growing digital economy," added Orlando B. Vea, President and CEO at PayMaya Philippines. PayMaya is the digital financial arm of PLDT and Smart's Voyager Innovations.
The partnership is part of PLDT Enterprise's extensive roadmap of transforming local government units into smart cities as part of the #READY program, which provides LGUs with ICT solutions, infrastructure and connectivity to help serve its constituents better.